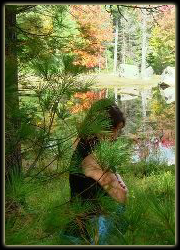 The Heart of an Artist - Article by Canadian Artist Hilary Clark Cole
I am one of the lucky people in this world... I always knew what I would do with my life. A fellow artist described himself as a maker of things... I have loved that term and I borrow it regularly... It gives me the thermals I need to fly on. Whether it is sculpting, writing, cooking or gardening, I am a maker of things. That is all.
As a child, I spent a great deal of my time with drawing materials and plasticene . But the best materials for sculpture were the materials I found myself, usually in the garden. It was as most gardens are, an endless treasure trove of sticks and flower parts and grapevines and stones. I would gather for hours and sit in the shade and make things. I loved to complete something three dimensional that I could hold and turn in my hands. CBC chose to feature me on a program called "On The Road Again". My 15 minutes of fame took 4 1/2 days to film, which is typical of the medium of television. For two of those days the crew struggled with me and my nervousness. But then, on day three, in my garden, the producer/director asked me to make one of the sculptures I used to make when I was a child in a garden long ago.
I was shocked and surprised and yet knew what I had to do... I gathered a poppy seed head and sticks and cedar and bark and strong grass, sat on the ground with it all in my lap, and as I fashioned a little figure, I looked down at five year old hands with a lot of history, and cried my shyness away. From then on the camera was my friend. The tears are on the cutting room floor, however.
People often ask me, particularly parents with young children, how can I recognize and help a child develop their artistic talent. I find that most children with an artistic bent are quite driven at an early age to create almost constantly... they are lucky just like me. Don't hover or push, and provide two things: simple materials for drawing, painting and sculpture, and sincere encouragement. It will come naturally and last if it is meant to last.
My high school education was in a girl's private school where the artistic offerings were confined to drawing and painting. So Art College was a huge leap in many ways. I had never owned a pair of blue jeans, to start with. But the broadening of possibilities after a relatively hybrid life was incredible. The atmosphere was intense. After years of conformity, it became important to be absolutely unique, and some went a little further than others to find their muse. Every medium was available... finding the one that spoke for me was the quest. So when my father discovered that his little Loretto Abbey Princess had decided to become a welder, he was horrified. It was years later that my chance question to him about what his dad had done for a living brought an answer that astonished us both.
Among other things, he was a blacksmith. Of course! Then it all made perfect sense. I feel that the arts for the most part are not gender specific. But at the beginning of my career, in my coveralls and steel toed boots, I got patted on the head a lot. My dad, like the rest of his generation, simply did not think of a woman doing what I do. But thank goodness, the world has changed.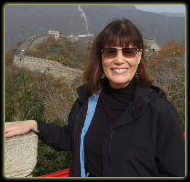 Where do you get your ideas, I am often asked. Well, stand back and look at my sculpture for a moment... I am telling you who I am. Art is communication for an artist... then if you look closely you will see everything there is to know about the individual. What will you learn about me?
I am a student of human and animal anatomy.
I am a lover of Nature.
I am a perfectionist who is obsessive about detail.
I am patient.
I have a sense of humour.
I am a woman.
I am a mother.
I am telling you all of that visually.
I love my medium... it is one of the ways that I speak... I translate my thoughts into metal. And just as in any language, I have learned all the rules.
But the creative process for me involves knowing all those rules and then breaking them. I challenge my material constantly to find something I cannot do in metal. It is rare that I am stumped, and pushing the boundaries is a constant exploration. For this reason, subject matter is extremely varied... the only constant is the medium itself.
I rarely take commissions, because I am so eager to please that I am never really finished the sculpture. When I do accept a commission, it is because I have had an instant image when a site is proposed. I look at the spot and the image moves into position and stops. This is because I think in pictures... moving pictures... when I create a work it is never static. It is a freeze frame in the movie in my brain.
Copyright © 2008 Hilary Clark Cole