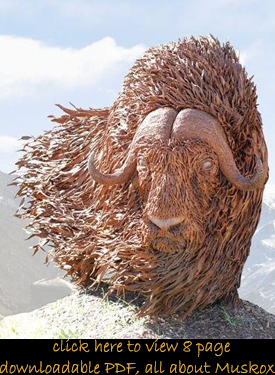 This is a life-size sculpture, one of a kind, hand built of 1/8th inch welded Corten Steel plate.

Corten Steel is a remarkable medium, although it does have its own rules. It is a nickel-steel alloy, developed for industry where its strength and tenacity are required. A common name for it is 'weathering steel'. Its main feature is that is will rust to a certain point, but never corrode. This makes it an ideal medium for an artist working in welded steel to create outdoor sculptures that last forever.

Every metal I work with has qualities which I must respect in order to create a marriage of material and message. Corten is no exception.

The character of this steel as it weathers creates a certain look that must enhance the subject matter of the piece I have created. There are several life-size outdoor works on this site (see Selected Works) where I have used 1/8th inch Corten Steel plate as the material of choice:

and now, the Muskox.

Interpreted in weathering steel, each of these sculptures expresses Nature's indomitable strength and beauty.

I have imagined creating a Muskox for many years, having great respect for their ability to adapt to the forbidding conditions of the Arctic Tundra. Their distinctive long coats (qiviut) often touch the ground, to protect them from the cold. They are stocky, built close to the earth, actually smaller than most of us realize, because in photos we have nothing but treeless terrain to judge their size. Because of that bare landscape, with nothing to hide behind, their herd instincts are unique. When challenged by a predator, the males form a circle around the weaker females and babies, facing out, with huge formidable horns lowered and ready to defend. The males are the only individuals ever on their own, so I have chosen a full grown male as my subject; after all, he will always be one of a kind.

Of course, I must research... the anatomy of a Muskox is not something that comes instantly to mind. But the feeling of the Muskox, 'Omingmak' or 'Bearded One' as the Innu call him, and what I want to say about him must be very clear. I use books to start my research, often children's books... they usually have the literal illustrations that I need. I read everything I can find. I use photographs wherever I find them and keep a large resource pile that I refer to constantly. I seek skeletal drawings and videos on the Internet. I seek out where I might actually see the animal in real life(in this case, two venues,Baffin Island and the Metro Toronto Zoo) to watch them move, and learn typical habit and behaviour so that I can crystallize a sculpture three-dimensionally in my head.

In the following photos of this work in progress, you will see the stages of completion, beginning with a maquette, or study model, which I created first in light mild steel in order to establish the anatomy, dimensions, habit, personality and message of the full-sized work. It is what I do each time that I am about to tackle a large piece such as this. All my previous research goes into that small sculpture.

Then, using these relative measurements, I built a life-size skeletal structure using seamless heavy-walled pipe. I used large panels of Corten Steel to create big flat baffles inside the piece, so that one could not see though it, but also to give it strength from an engineering perspective. Then I created the hooves, solid, holding the ground, establishing territory.

I constructed the head up to a half-way point on the bench to get expression and detail, and then attached it to the body and continued to work on it. There were to be many subsequent corrections of the head, because as I built the horn (or 'boss'), the set of the eyes had to be repeatedly changed. As a result, this Muskox actually sports three sets of eyes, one over the other!

To counterbalance the weight of the head, I began the coat of the Muskox at the back and underneath, and then gradually (and slowly) welded the clumps of hair over the rest of the body. I used a MIG welder for the most part, switching to Oxy-Acetylene to refine some areas such as the nose, around the eyes, and parts of the ears and hooves.

The coat is created entirely of strips of steel of various lengths, cut with a plasma cutter, shaped, and individually welded into place. Sometimes I would complete a 5-inch square in a day, depending on the area I was working on and the size of the pieces. I lay underneath and sat beside and climbed on top, welding welding welding. The pieces of hair range in size from 1/4 inch square to 30 inches by 3 inches.


It took a year and a half to complete the sculpture. He weighs about 1600 lbs. At this point he is essentially complete, except for his colour. He has been sandblasted, and now will endure the Canadian elements, as the Corten weathering steel is marinating to true Muskox brown.

Now as a sculptor, I have completed this work. I stand back so that you can see and feel what he is saying to you. This marvelous Muskox speaks to you of relentless wind. He speaks to you of powerful beauty, of endurance, of the odd putting together of elements that make him a recognizable symbol of our Canadian North. Strength, tenacity, weathering... all the characteristics of the very material he is made from. Nestled in his chest, in just the right place, is a small stone from Iqaluit to ensure that wherever he eventually has a home, the tundra will always be in his heart.

The Muskox is currently being showcased in Bracebridge at Chapel Gallery on King Street.