Welded Steel Sculptures by Canadian Sculptor Hilary Clark Cole
The Brazing Hussy series is a group of artistic statements by me; an artist, a woman, a welder. These are one of kind life-size female forms, which could loosely be described as a bustier, bodice or sculpted torso.
The general perception of steel is that it is a cold, masculine, industrial material. To me it is none of those things. I love to explore its warm, malleable, filigreed possibilities, and these particular sculptures give me that opportunity.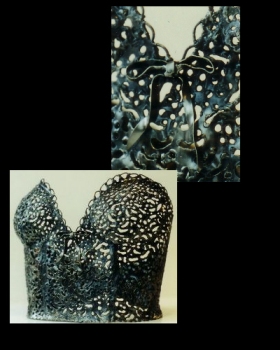 This series began quite simply as a literal interpretation of a lacy, feminine garment, created out of steel, ironic, and quite disarmingly charming.
But then I took a philosophical leap. I began to create this female form out of masses of welded steel fern fronds, bunches of steel-and-brass buttercups, delicate wire feathers. They became living growing works of art. The upper torso is such an expressive part of the body, a centre of emotion. The Hussies dance, some lush with fruit and new emerging life, some sensual and provocative, and others moody and thought provoking.
They continue to evolve into statements about being alive. There is joy and sadness in each of these sculptures as you hold them by the waist and listen to them speak. They will tell you of perceived beauty, of painful shyness, of rich memories, of wicked gossip, of temptation.
For inquiries, contact Penny Varney Gallery 705.687.8078, or info@pennyvarneygallery.com.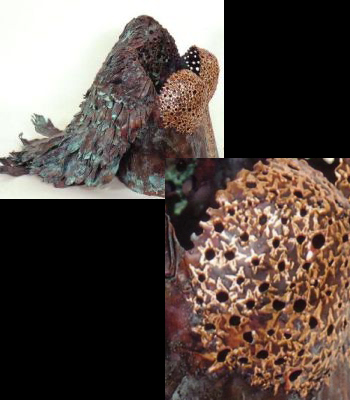 Leaving Home
This life size bustier is inspired by the lyrics of the ABBA song, called "I Wonder". It is a song about having the wings to fly, but feeling the weight of fear holding you back. The sculpture is created entirely of welded copper, and the texture and patina gives it the look of a baroque angel. It is engraved with stars... the ones we should reach for.
ABBA LYRICS:
"I Wonder"
This park and these houses, old streets I have walked
Everything dear, will it be here
One day when I am returning?
My friends will get married, have children and homes
It sounds so nice, well-planned and wise
Never expecting surprises
I wonder, it's frightening
Leaving now, is that the right thing?
I wonder, it scares me
But who the the hell am I if I don't leave it
I'm not a coward
Oh no, I'll be strong
One chance in a lifetime
Yes I will take it, it can't go wrong
My friends and my family, this dull little town
Buses I've missed, boys that I've kissed
Everything old and familiar
I wonder, it's frightening
Leaving now, is that the right thing?
I wonder, it scares me
But who the the hell am I if I don't leave it
I'm not a coward
Oh no, I'll be strong
One chance in a lifetime
Yes I will take it...
Yes I will take it, it can't go wrong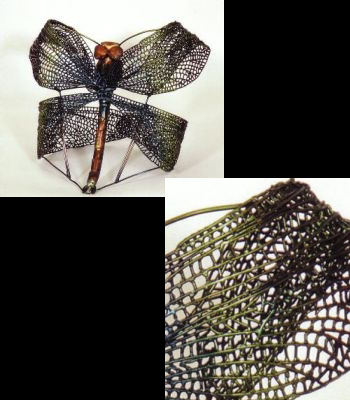 Ephemera
Ephemera is a comforting piece. The dragonfly has wrapped its beautiful wings around the torso and made it whole.
I created this life-size bustier by hand-building the four filagreed wings of the dragonfly, using 1/16th inch steel rod and an oxy-acetylene welding torch. I then formed the wings to create a standing torso.
The dragonfly body is made of copper. The colours are various iridescent metal paints.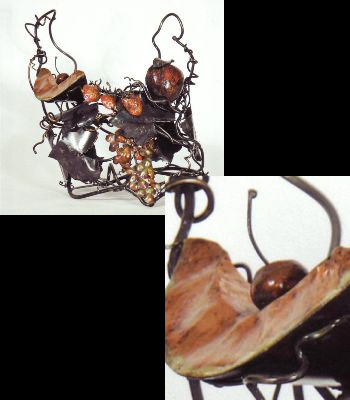 Meloncallmebaby
Meloncallmebaby is about sweetness and innocence and the power of gossip. I have sculpted individual pieces of fruit...a melon slice, a cherry, an apple... the whole piece is entwined by a pervasive grapevine, forming a female torso.
It is a life-size standing piece made of welded steel sheet and rod, brass and copper. The colours are all naturally created by heating the various metals to achieve a pallette I have developed over the years... reds are copper, yellows are brass, blues are steel.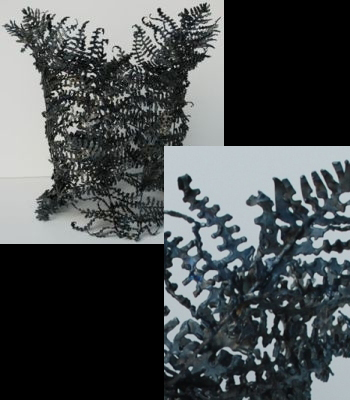 Fernacular
Beautiful words describe this gentle occupant of the forest floor... the lush fronds of Sweetfern, Maidenhair, Bracken, Ostrich, Sensitive and Lady ferns evoke the quiet beauty of a shady place.
These seemingly delicate plants actually have an iron constitution, and have existed on this earth virtually since it began.
I have created this bustier entirely of welded steel sheet and rod.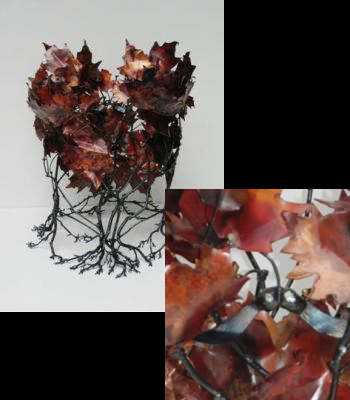 OHHH! Canada!
With this sculpture, I wanted to capture the exhilaration of a simple walk in the forest in our true north strong and free.
I chose individual maple saplings on just such a stroll, and did a portrait of each one, and then combined them into this lush and colourful bustier.
A maple key can unlock many secrets in a glowing heart.
The stems and branches and roots are of welded steel rod, the maple key is steel sheet and the leaves are torch-coloured copper.
The copper sheet is soft and fragile, much like a real leaf.
OHHH! Canada! is available at the Algonquin Art Centre.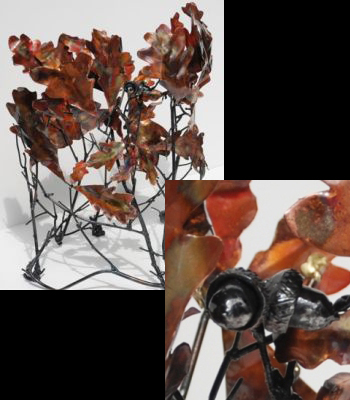 Muskoaka
The strong and sturdy oak can also have a feminine side, and I have captured that element in this bustier.
It is a delicate lacework of branches and white oak leaves undulating over the form, appropriately adorned with a pair of acorns.
The branches are steel rod, the leaves are soft, torch-coloured copper.
The little acorns are hand built of steel sheet and rod.
Muskoaka is available at the Algonquin Art Centre.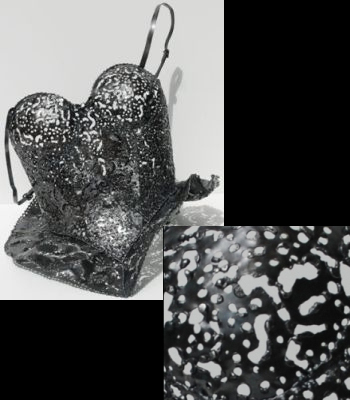 Steel or Bust
Although the Brazing Hussies allow me to venture into realms of fantasy and myth, every now and then I must return to tradition.
The piecing and fitting of the sections of such a garment are a triumph of engineering.
It is a grounding experience to recreate it in steel.
This is a joyful interpretation of grace and lace and form and function.
It is created entirely of steel sheet, which has been torch-pierced and welded, and light steel rod for detail.